About Us
The pioneer of Japan's lockers.
Japan's first coin-operated locker, which was installed in 1964, has now become so popular that the name "coin locker" is used as a common noun in Japan. Since then, coin lockers have been used at stations and leisure facilities throughout Japan.
We aim to further spread our original products such as coin lockers and also create new high-precision and diverse products by applying various personal authentication/identification technologies.
Company Name
Alpha Locker System Co., Ltd.
Headquarters
1-6-8 Fukuura, Kanazawa-ku, Yokohama City, Kanagawa, 236-0004, Japan
Representative
CEO Toshinari Wada
Capital
300 million yen
Content of Business

1. Manufacture, sales, leasing, and operation of coin-operated lockers (for terminals, leisure purposes),
  their peripherals, and locker system.
2. Manufacture, sales, and leasing of safety boxes, storage units for important items
3. Manufacture, sales, and leasing of other lockers (key type, 10-key type, card type, dial lock type, RF-ID type)
4. Processing and sales of keys and locks for automobiles
5. Maintenance and service of the above Alpha products
6. Any other business activities related to the above

Place of Business
Headquarters and Factory: Yokohama
Offices: Sendai, Osaka, Fukuoka, Gunma, Tokyo, Yokohama
Banks
Sumitomo Mitsui Banking Corporation Kamata Branch
Resona Bank Limited Omori Branch
Map of the Headquarters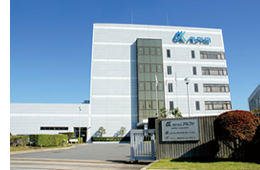 Download the Company Brochure