Featured Products
The listed products are all Japan models.
AIS Series
E-money/Cash Dual Type


FBS - 46BMT
Finger Vein Authentication


The definitive edition of next-generation terminal lockers
Keyless lockers that accept e-money and cash payment.
Large display touch panels are friendly for foreign users and it will also provide vacancy information. Remote management is also available, which will improve the efficiencies of management and operations and reduce their burden.

E-money Accepted

Various Types of Cash Accepted

Double Printer Equipped

Supports 5 Languages (Japanese/English/Korean/
Chinese〈Simplified〉/Chinese〈Traditional〉)

Remote Management Available (optional)
Features
Easy Authentication with IC Card or QR Code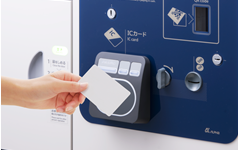 IC Card
Payment can be completed simply by touching the IC card to the reader. The IC card also serves as the locker key.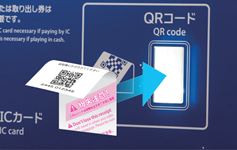 QR Code
When paid in cash, you can scan the QR code printed on the receipt to authenticate and open the locker.
For foreign customers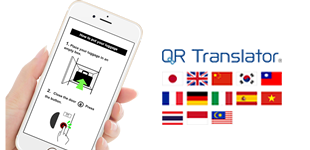 The information displayed on the locker and audio guide are available in 5 different languages. You can also use your smartphone and scan the QR Code displayed on the monitor to read how to use the locker in 13 different languages. *2
*2. QR Translator® is a service provided by PIJIN Co., Ltd.
Cloud Management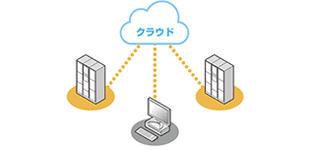 Central management via cloud servers enables vacancy information to be accessed at any time.
Security Camera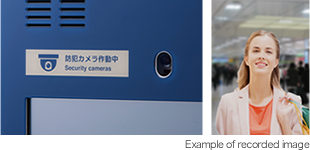 The built-in security camera at the top of the monitor records the users and ensures their safety.
*AIS-OPb is optional.
Never get lost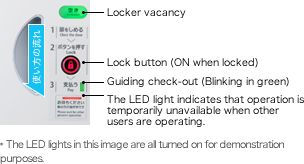 Steps on how to use the locker are printed on each locker door and we have made full-use of LED lights. We also use clear and easy-to-read fonts in the operation screen and also colors, so people of color vision impairments can use without any difficulties.
Occupied lockers can easily be spotted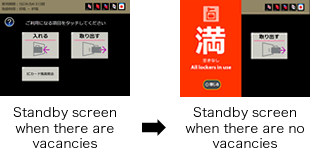 Users can get vacancy information at a glance on the monitor screen from the "FULL" icons. Also, the green LED light on each locker door indicates that the locker is "OPEN" and allows users to easily find open lockers.
Larger width, easier to handle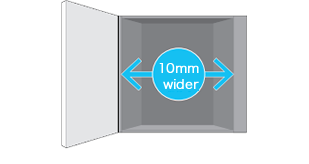 We also developed our own thin electric lock unit, which gave the locker a plus 10mm in width and more space compared to the conventional models.
How to Use
IPaying with IC Cards
Check-in
Put your belongings inside.

Lock the door.

Select "IC Card."

Touch your IC Card to
the reader and pay.
Check-out
The same IC card used for payment is required
Select "Check-out."

Select "IC Card."

Touch your IC Card to
the reader.

Take out your belongings.
Paying in Cash
Check-in
Put your belongings inside and lock the door.

Select "Pay in cash."

Complete payment.

Make sure to keep
the receipt.
Check-out
Select "Check-out."

Select "QR Code"

Scan QR Code

Take out your belongings.
Installation Examples


An elegant style combined with the highest level of security.
The elegant piano black doors increase the impression of the facility.
Facilitates high security with various types of authentication methods and features user-friendly operations.

E-money Accepted

Various Types of Cash Accepted

Double Printer Equipped
Supports 4 Languages (Japanese/English/Chinese/Korean)
Features
Highest Security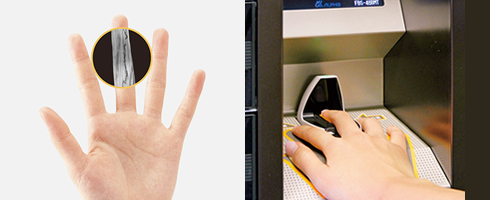 Unlike fingerprint authentication which determines the ridges of a fingertip, a person is identified by his/her finger veins to prevent theft and losses and to make spoofing and use of counterfeit items nearly impossible.
*Regardless of age and gender, the results of biometric registration and authentication may vary between individuals. In addition, registration and authentication may not be performed due to external factors such as having adhesive plasters on, injuries, skin conditions, and etc.
User-friendly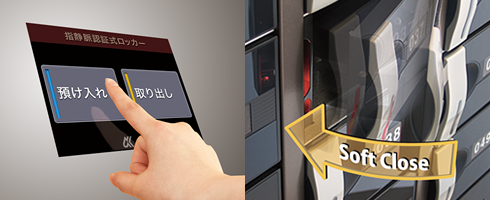 Operation is made easy with color screens and voice guidance. The color scheme of the display is friendly for the color vision impaired and many others. Other key features are: the soft-close mechanism which keeps the door from slamming shut, and the easily recognizable LED indicator integrated on the handle which allows users to check for vacancies at a glance.
Designs that Harmonizes with the Interior

The elegant design is best suited for facilities for prestige customers.

Reliable Aftercare Services

Nationwide service network and secure support pack with theft insurance will be at your service.

Smooth replacement

Replacement can be done easily as the external dimensions are the same with our conventional models. The basic management methods are also passed down which enables a quick replacement.
How to Use
Check-in
Select "Check-in."

Enter the locker number that you wish to use.

Register your finger vein.

Open the door and put your belongings inside.
Check-out
Select "Check-out."

Authenticate your finger vein.

Open the door and take your belongings out.
Installation Examples